ONCAlert | 2018 SGO Annual Meeting on Women's Cancer
Screening Needed for Younger Breast Cancer Patients Based on Mutation Yield
Published Online: Jun 11,2015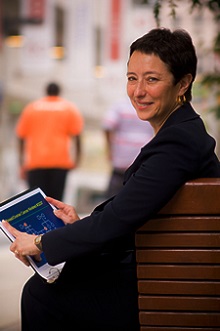 Judy E. Garber, MD
BRCA
and other mutations occurred in more than 10% of estrogen-receptor (ER)–positive/HER2-negative invasive breast cancers in a cohort of women younger than 50 years of age, according to a report at the 2015 ASCO Annual Meeting.
Overall, 11 of 106 (10.4%) patients had a deleterious mutation. These included seven patients (6.6%) with
BRCA1
or
BRCA2
mutations. Other genes related to breast cancer identified through the analysis were
ATM
,
CHEK2
, and
PALB2
. One patient had a mutation in both
BRCA2
and
ATM
.
"Neither age at diagnosis nor family history distinguished carriers in this relatively small cohort of women diagnosed before age 50," said Judy E. Garber, MD, director of the cancer risk and prevention clinic at Dana-Farber Cancer Institute in Boston. "National Comprehensive Cancer Network (NCCN) guidelines call for testing women with breast cancer diagnosed at age 45 years or younger, regardless of subtype. These data are a reminder to extend testing beyond patients with triple-negative breast cancer (TNBC)," Garber said.
Among women with newly diagnosed TNBC,
BRCA1/2
mutations occur in about 25% of tumors diagnosed at age 50 years or earlier and in 10% to 15% of tumors diagnosed at age 60 years or earlier. Epidemiologic data have shown that
BRCA
mutation carriers who are younger than 50 years at diagnosis are more likely to have higher-grade ER-positive tumors.
Given the NCCN recommendation for testing women ages 45 years or younger, "We wondered whether we are missing patients who might benefit from targeted therapies if only those with triple-negative breast cancer are tested," said Garber. "We looked beyond
BRCA
to begin to contribute to that epidemiology."
Investigators obtained blood samples from consenting patients with invasive breast cancer. All patients were younger than 50 at diagnosis, had ER-positive/HER2-negative breast cancer, grade 3 (poorly differentiated) disease, and invasive cancer only. After exclusions for incorrect grade, insufficient DNA, and other factors, 106 patients remained for testing and data analysis.
The patient specimens were assessed by means of a next-generation sequence-based panel that identified mutations in 25 cancer predisposition genes. Investigators classified germline sequence variations and large rearrangements for pathogenicity.
The test panel identified deleterious mutations in 11 patients.
BRCA1
mutations were detected in four patients and
BRCA2
in three patients. Other cancer-predisposition genes identified in the study were
ATM
in two patients (including one
BRCA
carrier),
CHEK2
in one patient, and
PALB2
in two patients.
Investigators found one or more variants of unknown significance (VUS) in any gene in 47 of 106 patients. The VUS occurred alone in 39 cases and with a mutation in eight cases.
Mutations were more common among women of Ashkenazi Jewish ethnicity (3 of 11 mutations, 27.3%,
P
=.02), progesterone-receptor–negative tumors (27.3% vs 5.3% of women without mutations,
P
<.01), and women who previously had undergone genetic testing (81.8% vs 41.2% of women without mutations,
P
= .01).
"Panel testing identified mutations beyond
BRCA1
and
BRCA2
in women with high-grade ER-positive/HER2-negative tumors diagnosed before age 50. Further research to assess the mutation rate in women diagnosed after age 50 years with grade III, ER-positive/HER2-negative cancers is warranted," Garber concluded.
---
Garber JE, Tung NM, Elkin EP et al. Predisposing germline mutations in high grade ER+HER2- breast cancer (BC) patients diagnosed (Dx).
J Clin Oncol.
33, 2015 (suppl; abstr 1503).
<<< View more from the Precision Medicine Special Report
Clinical Articles
Screening Needed for Younger Breast Cancer Patients Based on Mutation Yield