ONCAlert | Upfront Therapy for mRCC
Expert Recommends A Stronger Focus on Subsets in Treatment of Colorectal Cancer
Ellie Leick
Published Online:6:29 PM, Thu November 7, 2019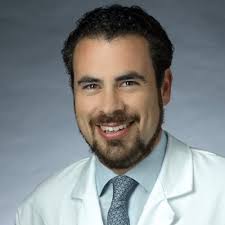 Benjamin Weinberg, MD
Performing next-generation sequencing on patients with colorectal cancer (CRC) and determining sidedness at the time off diagnosis is essential for understanding how to approach treatment for the various molecular subgroups seen in CRC, according to Benjamin Weinberg, MD.
"There are important subpopulations in patients with metastatic colorectal cancer and it's not just a monolithic entity," explained Weinberg. "We need to be testing for these things. There are certain things we need to know upfront, including
RAS
,
BRAF
, microsatellite instability, and
HER2
status. Even if we don't use [the NGS] to guide therapy immediately, it would steer how I structure a sequencing of treatments."
For patients with
BRAF
V600E–mutant metastatic colorectal cancer (mCRC), for example, the BEACON study evaluated the triplet regimen of encorafenib (Braftovi), binimetinib (Mektovi), and cetuximab (Erbitux) versus encorafenib/cetuximab alone versus investigator's choice of standard therapy with cetuximab plus either irinotecan or FOLFIRI. Results showed that the median overall survival for the triplet therapy was 9.0 months versus 5.4 months with the standard regimens, which translated to a 48% reduction in the risk of death (HR, 0.52; 95% CI, 0.39-0.70; 2 sided  
P
  <.0001). 
The FDA previously granted the triplet regimen a breakthrough therapy designation for the treatment of patients with
 BRAF
 V600E–mutant mCRC as detected by an FDA-approved test, following failure of 1 or 2 prior lines of treatment. 
In an interview with
Targeted Oncology
, Weinberg, assistant professor of medicine and attending physician, Georgetown University, discussed the treatment options available for the various subpopulations in mCRC.
TARGETED ONCOLOGY: How do you currently treat patients with mCRC in the first-line setting?
Weinberg
: There are many treatment options for frontline mCRC. All of these typically involve fluoropyrimidine-containing chemotherapy, usually with the addition of oxaliplatin and/or irinotecan. The options for chemotherapy backbones include FOLFOX, CAPOX, FOLFIRI, CAPIRI, FOLFIRINOX, or CAPIRINOX, which typically have a biologic agent added to them. Patients also benefit from bevacizumab (Avastin), a VEGF-targeting therapy. For patients with left-sided
RAS
and
BRAF
wild-type tumors, we believe the benefit of an EGFR-directed antibody like cetuximab is beneficial in the frontline setting.