ONCAlert | Upfront Therapy for mRCC
Ramucirumab Plus Erlotinib Shows PFS Benefit in Frontline EGFR+ NSCLC
Gina Columbus
Published Online:3:00 PM, Wed October 16, 2019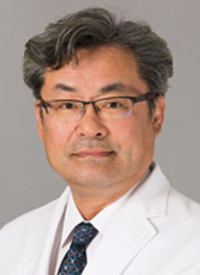 Kazuhiko Nakagawa, MD
Patients with treatment-naïve
EGFR
-mutant non–small cell lung cancer (NSCLC) experienced a statistically significant and clinically meaningful improvement in progression-free survival (PFS) with the combination of ramucirumab (Cyramza) and erlotinib (Tarceva) compared with erlotinib alone, according to the results of the phase III RELAY trial which was recently published in
The Lancet Oncology
.
1,2
Data specifically showed that the combination was associated with a median PFS of 19.4 months compared with 12.4 months with erlotinib and placebo, leading to a 41% reduction in the risk of disease progression or death (HR, 0.59; 95% CI, 0.46-0.79;
P
≤.0001) at a median follow-up of 20.7 months.
There were no new safety signals and the tolerability observed in the trial was consistent with what has been previously observed with data for ramucirumab and erlotinib as single agents. Moreover, these study results are the basis for global regulatory submissions, which have been made in the United States and European Union, stated Lilly Oncology, the developer of ramucirumab, in a press release. A submission in Japan is planned by the end of 2019.
"The findings from RELAY show the utility of targeting the VEGFR and EGFR pathways together in this setting, and validate previous non-clinical and clinical studies which demonstrated interactions between EGFR and VEGFR2 signaling in the setting of
EGFR
mutations," lead study investigator Kazuhiko Nakagawa, MD, Department of Medical Oncology, Kindai University Faculty of Medicine, stated in a press release.
In
EGFR
-mutant NSCLC, most patients receive several lines of therapy, Lilly stated in the press release. EGFR TKIs, one of which is erlotinib, a first-generation EGFR TKI, are standard options for this patient population.
"Although EGFR TKIs have proven effective for the first-line treatment of
EGFR
-mutated non–small cell lung cancer, most patients will experience disease progression and prognosis remains poor," Nakagawa stated in the press release. "These results suggest the combination of Cyramza plus erlotinib has the potential to be an important first-line treatment option for people with metastatic
EGFR
-mutated non–small cell lung cancer."