ONCAlert | Upfront Therapy for mRCC
Treatment Sequencing Considerations for BRAF-Mutant Melanoma
Sigrid Eckard
Published Online: May 26,2016
With expanding availability of effective single-agent and combination immunotherapies and combination BRAF/MEK inhibitor regimens, all of which have been shown to improve survival and reduce risk of progression, the optimal sequencing of therapies has become increasingly complex.
Preferred frontline regimens for patients with
BRAF
V600-mutant tumors, representing approximately 40% to 50% of patients, include both targeted agents and immunotherapy with checkpoint inhibitors.
1
The most relevant factors that influence choice of first-line therapy include
BRAF
mutation status, the tempo of disease, and the presence or absence of cancer-related symptoms.
1
"In patients with
BRAF-
mutant melanoma who have extensive, symptomatic disease, most clinicians would favor the use of BRAF-targeted therapy (dabrafenib/trametinib). Subgroup analyses from multiple BRAF trials have demonstrated strong clinical benefit in patients with the most advanced and aggressive disease (elevated LDH, M1c)," according to Geoffrey T. Gibney, MD, and Michael B. Atkins, MD, with the Medstar-Georgetown University Hospital in Washington, DC.
2
"In patients with
BRAF-
mutant melanoma without extensive central nervous system disease or symptomatic systemic metastases, the decision for upfront therapy has become debated. The focus has largely shifted to the durability of response with each therapy."
Potential benefits with immunotherapy include a more durable antitumor immune response compared with BRAF and MEK inhibitor therapies with 2-year OS rates as high as 60% with first-line pembrolizumab and 4-year OS rates of 32% with first-line nivolumab.
3,4
However, long-term analyses with combined BRAF/MEK inhibitor therapy have shown that approximately 20% of patients remained progression-free after 3 years, with 2- and 3-year OS rates in the range of 51% to 60% and 38% to 47% in all patients, and up to 63% in patients with favorable prognostic baseline criteria.
5
Retrospective analyses with single-agent therapies have suggested better outcomes with front-line immunotherapy with ipilimumab or interleukin-2 followed by BRAF inhibitor therapy with vemurafenib or dabrafenib compared with the inverse approach.
6,7
However, prospective data with the newer more effective therapies are not yet available and a retrospective analysis showed that nivolumab had similar efficacy and safety regardless of prior BRAF inhibitor or ipilimumab treatment.
4
Study author James Larkin, MD, PhD, with the Royal Marsden Hospital, London, England, and co-authors conclude that: "Nivolumab monotherapy may be an effective treatment for mutated
BRAF
patients regardless of whether they have previously received a
BRAF
inhibitor."
Addressing the lack of prospective data on the choice of immunotherapy versus targeted therapy in the frontline treatment of patients with
BRAF
-mutant melanoma, the ongoing phase III Intergroup EA6134 study (ClinicalTrials.gov identifier NCT02224781) is comparing frontline targeted BRAF/MEK inhibitor combination therapy (dabrafenib/trametinib) followed by combination immunotherapy ipilimumab/nivolumab with the inverse regimen, i.e., immunotherapy followed by targeted therapy, in patients with
BRAF
V600E or K mutations.
Examining the Optimal Sequencing of Agents:Immunotherapies
Frontline single agent nivolumab and nivolumab/ipilimumab have become available to patients with advanced melanoma irrespective of
BRAF
mutation status, and have demonstrated significant reductions in the risk for progression compared with ipilimumab monotherapy.
8,9
Available PD-1 inhibitors also include pembrolizumab, associated with an ORR of 33%, a 12-month progression-free survival (PFS) rate of 35%, and median overall survival (OS) of 23 months when given as single agent.
10
Potential PFS benefits of nivolumab/ipilimumab combination therapy versus single-agent nivolumab or ipilimumab come at the cost of significantly increased toxicity. According to Jeffery S. Weber, MD, PhD, with the NYU Langone Medical Center, New York, "The spider plots show that very steep immediate rapid response, which makes it the perfect therapy for a
BRAF
wild-type patient who has aggressive, high-LDH bulk rapidly growing disease, or even a
BRAF
-mutated patient. I also think it's a great neoadjuvant therapy. It's got a 50-plus percent response rate, which is really what you want in a neoadjuvant therapy. In a patient with low burden disease, low LDH that's not rapidly progressive, you can probably get away with PD-1 alone and do very well."
A randomized phase II study evaluating sequential induction immunotherapy followed by nivolumab found that the order of agents matters. Induction with nivolumab followed by ipilimumab was associated with a two-fold higher ORR than the inverse induction sequencing (41.2% vs 20.0%); in both arms, nivolumab maintenance was given subsequently.
11
Weber, lead investigator on the study, explained that many patients experienced combination toxicity "much of which may well be the ipilimumab," he said. Patients were able to "stop, recover, and then go to the nivolumab maintenance."
The availability of combination immunotherapy may also influence the decision of when to switch a patient from BRAF/MEK therapy to immunotherapy. According to Rene Gonzalez, MD, with the University of Colorado Melanoma Research Clinics, data with the combination of ipilimumab/nivolumab have prompted him to more often consider switching some patients to immunotherapy from the BRAF/MEK combination, "because with BRAF/MEK combination, half the patients will die in about 2 years," Gonzales said, "we might be able to impact better now rather than later."
Observation that at least a quarter of the resistance that develops to combination therapy is immunologically driven12 suggest that moving patients to immunotherapy earlier than later may be beneficial, because, according to Jason Luke, MD, from the University of Chicago, "It very well could be that treating all the way to progression actually could kill the immune response."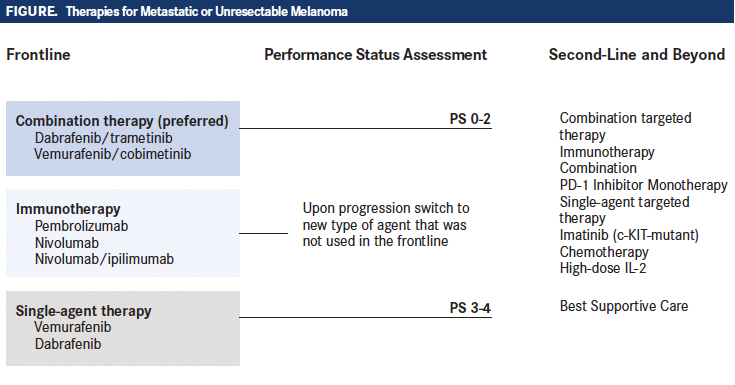 Clinical Articles
Treatment Sequencing Considerations for BRAF-Mutant Melanoma