ONCAlert | Upfront Therapy for mRCC
New Insights From Genomic Classification Affecting Choice of Targeted Agents or Immunotherapy
Robert L. Ferris, MD, PhD
Published Online: Oct 09,2019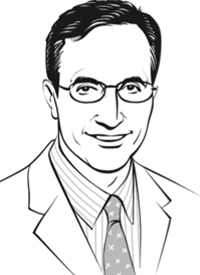 Robert l. Ferris, MD, PhD
The transformation in cancer
therapy between progress in genomic subclassification based on targetable alterations in oncogenic signaling pathways versus induction of neoantigens permitting successful cancer immunotherapy is perhaps nowhere more relevant and prevalent than in both non–small cell and small cell lung cancer (SCLC). At the recent
20th Annual
International Lung Cancer Congress® in Huntington Beach, California, a number of very prominent contributors to the lung cancer translational and clinical field provided updates regarding novel strategies to address unmet needs. David R. Gandara, MD, reminded us that predictive, biomarker-driven trials will only be developed for both tyrosine kinase inhibitors (TKIs), as well as immune check- point inhibitors, if we can design clinical trials with integrated statistically robust biomarker companion assays. He indicated that 3 prerequisites for a more personalized approach would facilitate this development: tissue or blood-based profiling, linkage of predictive genomic biomarkers with targeted agents, and clinical trial designs with robust statistics to define the activity of a subset of individuals for the drug hitting its target. Some similarly designed trials include the Lung Cancer Master Protocol (Lung-MAP), an umbrella design study with substudies based on a genomic profile. There are proliferating and large prevalence cancers such as non–small cell lung cancer (NSCLC) that are well suited to drive patient selection and drug combinations. Certainly, acquired resistance may occur and sequential personalized, genomically-driven biomarker-oriented studies need to be designed.
Gandara also pointed out that combination therapies for lung cancer, particularly unless they are biomarker driven to detect smaller-effect sizes in the general population or greater–effect sizes in smaller subsets based on robust clinical trials, may lead to recruitment fatigue. Some PD-1/PD-L1 trials have seen decline in recruitment with these all-comer phase III designs that are not efficiently optimizing the benefit for selected populations. He strongly recommended that designing the trials to build in predictive biomarkers will advance the field of immunotherapy, much as the genomic biomarker-driven precision oncology field has done for
ALK
- or
EGFR
-driven NSCLC. Indeed, new markers and alterations such as
KRAS
are creating opportunities, which has long been difficult to target. Furthermore, the mutational burden subgroup may have immunotherapy combinations as well.
Further progress, though with a great deal of distance still to go, was addressed by Charles M. Rudin, MD, PhD. He indicated that although activity for anti–PD-1 has been observed and resulted in a recent approval for nivolumab [Opdivo] in SCLC, this is still a modest advance for a lethal disease. The use of nivolumab based on CheckMate-032, as well as pembrolizumab [Keytruda] and atezolizumab (Tecentriq) based on the KEYNOTE-158 and Impower 133 trials, respectively, indicated that targeting PD-1 or PD-L1 may provide an overall response rate of 10% to 12% after platinum-based chemotherapy or other lines of therapy. He indicated that preclinical data may point to a role for targeting DNA damage repair, through PARP and CHK1 pathways that may drive inducible PD-L1 expression. Furthermore, DNA damage pathway inhibition can trigger innate immune pathways as well as induce appropriate cytokines, chemokines, and eventual cellular immunity through T-lymphocytes. Targeting work through DLL3, which is highly expressed on SCLC cells, may enable anti- body or cellular therapy strategies. In all, the progress in all types of lung cancer has been reassuring and exciting, however preclinical models are key for driving biomarkers and combinations that can then be used to inform clinical trial design. To paraphrase Rudin, bench to bedside is a two-way street and iteratively bringing findings from the bench for clinical validation is key, as is developing biomarkers with specimens from the clinic to be evaluated in the laboratory.
Clinical Articles
New Insights From Genomic Classification Affecting Choice of Targeted Agents or Immunotherapy