ONCAlert | Upfront Therapy for mRCC
ASCO Issues Update on Frontline NSCLC Treatment in Wake of Immunotherapy Approvals
Audrey Sternberg
Published Online: Mar 21,2020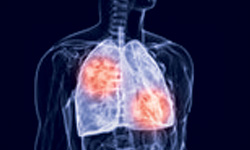 In response to
frequent and substantial changes in the treatment of non–small cell lung cancer (NSCLC) in the frontline set­ting, the American Society of Clinical Oncology (ASCO) has partially updated its 2017 guide­line for the treatment of patients with stage IV disease without driver mutations.
1
"Since 2017, additional molecular abnormal­ities have been identified, which necessitated separate guidelines for those with targetable driver mutations and those without targetable mutations," Nasser H. Hanna, MD, lead author of the guidelines, said in an interview with
Targeted Therapies in Oncology
. "Several randomized phase III trials evaluating dif­ferent chemotherapy, immunotherapy, and antiangiogenic regimens have been reported. These results required a rewriting of key recommendations [to include] guidance on what the committee believed are the preferred treatments that clinicians
should
use and additional regimens that clinicians
may
use in given circumstances."
In 2017, prior to the current update, ASCO had last revised the Clinical Practice Guideline on the systemic treatment of patients with stage IV NSCLC.
2
Of note, 5 randomized con­trolled trials from 2015 to 2019 provided the evidence used to update the recommendations for the care of patients with an ECOG perfor­mance score of 0 to 1 whose tumors do not have a driver alteration in
ALK
or
EGFR
. These trials investigated the anti–PD-1 antibody pembroli­zumab (Keytruda) as monotherapy and in com­bination with chemotherapy (KEYNOTE-042, KEYNOTE-189, and KEYNOTE-407),
3-5
or eval­uated combinations featuring the PD-L1 inhib­itor atezolizumab (Tecentriq; IMpower150 and IMpower130).
6,7
Nonsquamous NSCLC
The ASCO recommendations divide patients with nonsquamous histology into 2 main groups: those with high PD-L1 expression (with a tumor proportion score [TPS] ≥50%) and those with either negative (TPS 0%) or low positive PD-L1 expression (TPS between 1% and 49%) (
FIGURE
).
1
High PD-L1 Expression
For patients with TPS ≥50%, the recom­mendation with the most support remains single-agent pembrolizumab, which is con­sistent with the 2017 recommendation.
1,2
This indication was approved by the FDA in 2016, based on findings from KEYNOTE-024.
8
Data from KEYNOTE-042 have since been published and further support the use of pembrolizumab monotherapy in this setting.
3
The randomized, open-label phase III KEYNOTE-042 trial in patients with both histologies and PD-L1 TPS ≥1% showed that overall survival (OS) was significantly improved with pembrolizumab in those with TPS ≥50% (HR, 0.69; 95% CI, 0.56-0.85;
P
= .0003).
3
In the population with nonsquamous NSCLC and TPS ≥50%, pembrolizumab resulted in numerically higher OS but failed to reach statistical signif­icance (HR, 0.82; 95% CI, 0.63-1.07;
P
= not significant).1 Grade ≥3 adverse events (AEs) for all patients with TPS ≥1% favored the interven­tion, at 17.8% versus 41% with the control.
1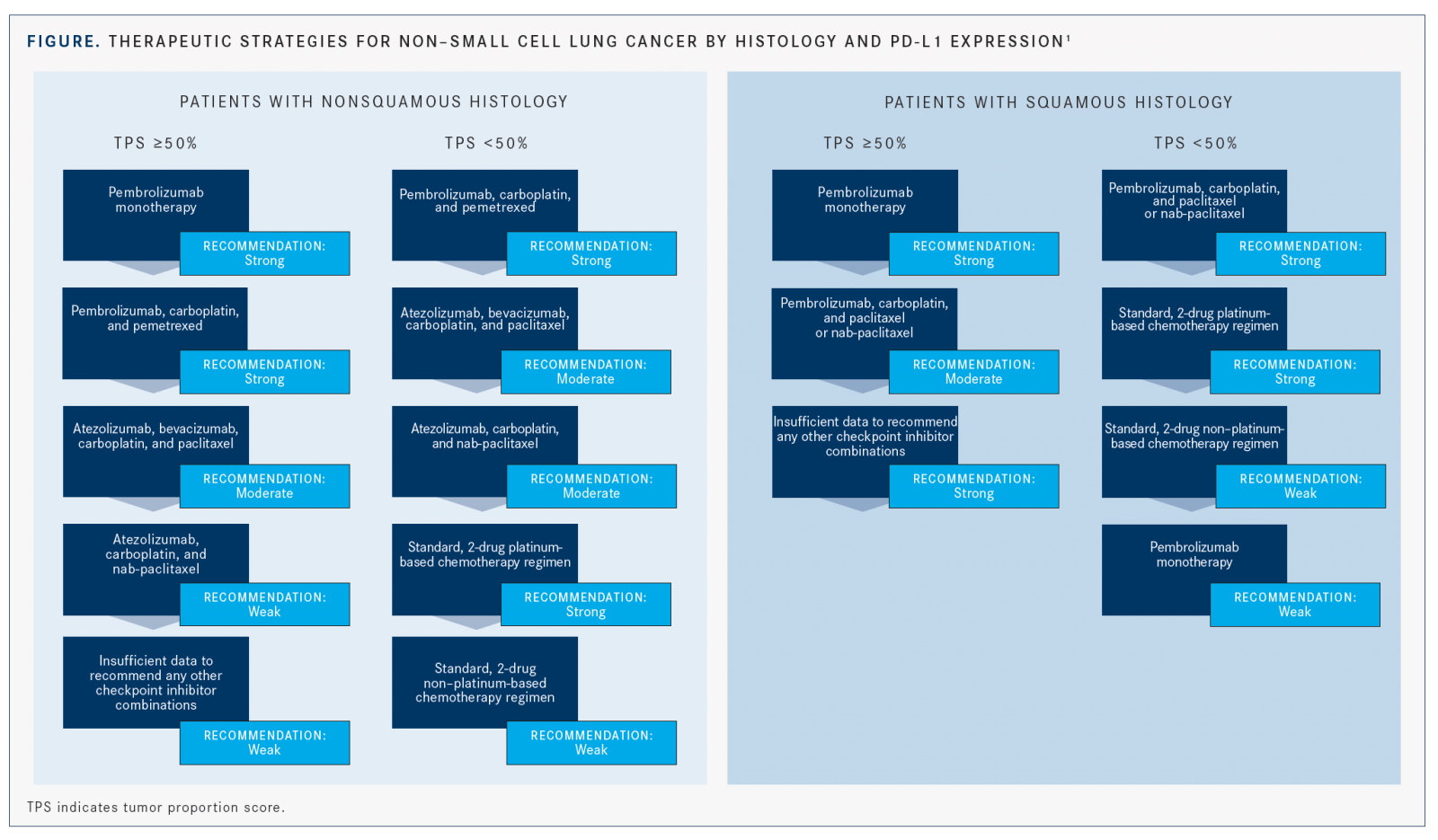 In this study, patients receiving single-agent pembrolizumab had superior survival compared with a platinum-based doublet regimen," said Nasser, who is also a Tom and Julie Wood Family Foundation Professor of Lung Cancer Clinical Research at Indiana University School of Med­icine in Indianapolis. When asked about the OS results of this trial, he added that the study was not powered to show a survival advantage in this subset; therefore, [the OS benefit] was not statistically significant. However, it was clear and convincing that this subset contributed the most to the OS advantage."
Additionally, patients with TPS ≥ 50% and nonsquamous histology may be offered pem­brolizumab plus carboplatin and pemetrexed (Alimta). The guideline suggests that clinicians take a shared decision-making approach with patients to determine whether the single agent or the combination is a more suitable option because a lack of randomized trial data comparing the 2 may lead to difficulty in treatment selection.
The recommendation is supported by the results of the double-blind, phase III KEYNOTE-189 trial, which examined the immunochemotherapy combination versus chemotherapy alone in all patients with non­squamous NSCLC. One-year OS was signifi­cantly improved in all the PD-L1 subgroups, including the TPS ≥50% group (HR, 0.42; 95% CI, 0.26-0.68), and rates of AEs were similar in both arms.
4
Another immunotherapy-and-chemotherapy combination that may be employed to treat this patient population is the 4-drug regimen of atezolizumab, bevacizumab (Avastin), carbopla­tin, and paclitaxel. The phase III IMpower150 trial demonstrated a clinically meaningful and statistically significant improvement in pro­gression-free survival (PFS) in patients treated with the quadruplet regimen versus bevacizum­ab plus chemotherapy alone (HR, 0.39; 95% CI, 0.25-0.60 for patients with high PD-L1 expres­sion).5 OS for these patients was also improved per an updated analysis (HR, 0.70; 95% CI, 0.43-1.13).9 Grade 3/4 AEs were higher in the 4-drug arm.
1
Clinical Articles
ASCO Issues Update on Frontline NSCLC Treatment in Wake of Immunotherapy Approvals