ONCAlert | Upfront Therapy for mRCC
PFS Not Improved With Atezolizumab/Cobimetinib Combo in Phase III IMspire170 Trial
Gina Columbus
Published Online:3:45 PM, Tue June 25, 2019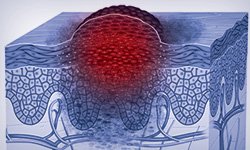 The phase III IMspire170 trial (NCT03273153) failed to meet its primary endpoint according to topline results from the study. The combination of atezolizumab (Tecentriq) and cobimetinib (Cotellic) did not improve progression-free survival compared with pembrolizumab (Keytruda) in patients with previously untreated
BRAF
V600 wild-type melanoma.
The safety profile observed with the combination regimen was consistent with the known safety profiles of each agent alone, wrote Exelixis, the manufacturer of cobimetinib, in a statement to the United States Securities and Exchange Commission.
Genentech, which manufactures atezolizumab and is the sponsor of the trial, announced that it will present the findings at an upcoming medical meeting.
In the multicenter, open-label, randomized phase III IMspire170 trial, investigators sought to evaluate the efficacy, safety, and pharmacokinetics of cobimetinib plus atezolizumab versus pembrolizumab in 450 treatment-naïve patients with advanced
BRAF
V600 wild-type melanoma.
To be eligible for enrollment, patients aged ≥18 years had to have histologically confirmed locally advanced and unresectable or metastatic melanoma that had not been previously treated with systemic therapy, had
BRAF
V600 wild-type status, RECIST v1.1 measurable disease, an ECOG performance status of 0 or 1, a life expectancy ≥3 months, and adequate hematologic and end-organ function.
In the combination arm, patients received 60 mg of oral cobimetinib on days 1 to 21 plus 840 mg of intravenous (IV) atezolizumab on days 1 and 15 of each 28-day cycle until disease progression, unacceptable toxicity, death, decision to withdrawal, or pregnancy. Cobimetinib was not administered for days 22 to 28 in each cycle. In the pembrolizumab arm, the PD-1 inhibitor was given IV at 200 mg every 3 weeks.
The primary endpoint is PFS by independent review committee (IRC); secondary endpoints are investigator-assessed PFS, objective response rate (ORR) determined by IRC, investigator-assessed ORR, disease control rate (DCR), overall survival, duration of response (DOR), 2-year landmark survival, change from baseline in health-related quality of life, and safety.
Earlier results of the combination of atezolizumab and cobimetinib in melanoma were presented at the 2017 ASCO Annual Meeting. The combination was explored as part of a phase Ib dose-escalation and dose-expansion study across a number of solid tumors, including melanoma.
In the study, cobimetinib was dose escalated from 20 mg, to 40 mg, to 60 mg. It was administered as given once daily for 21 days followed by 7 days off, and IV atezolizumab was given at 800 mg every 2 weeks. In the tumor-specific expansion cohorts, patients received the maximum dose of cobimetinib at 60 mg daily. No prior therapy with a PD-1/PD-L1 inhibitor was permitted.
As of the data cut-off date of October 12, 2016, 22 patients with melanoma were evaluable for safety; 2 patients had ocular melanoma. Ten patients harbored
BRAF
mutations, and the other 10 patients were BRAF wild-type.
At a median follow-up of 14.4 months (range, 2.1-23.2), results showed that the RECIST v1.1-confirmed ORR was 45.0% in patients with non-ocular melanoma, and the median DOR was not reached. Moreover, the DCR was 75.0%, and the median PFS was 12.0 months (95% CI 2.8–not evaluable). The ORR was similar for patients with
BRAF
-mutant and
BRAF
wild-type melanoma.
Safety findings showed that adverse events (AEs) were experienced in all patients and included diarrhea (90.9%) and rash (68.2%).
Treatment-related grade 3/4 AEs occurred in 54.5% of patients, which comprised diarrhea (13.6%) and dermatitis acneiform (9.1%) as the most common events. There were no related grade 5 AEs. Treatment-related serious AEs occurred in 13.6% of patients, all of which found to be manageable. There was one patient who discontinued treatment due to an AE.
---
References
United States Securities and Exchange Commission: Form 8-K. Exelixis. Published June 19, 2019. https://bit.ly/2L5xOuW. Accessed June 21, 2019.
Miller WH, Kim TM, Lee CB, et al. Atezolizumab (A) + cobimetinib (C) in metastatic melanoma (mel): Updated safety and clinical activity. J Clin Oncol. 2017;35(suppl; abstr 3057). doi: 10.1200/JCO.2017.35.15_suppl.3057.