ONCAlert | Upfront Therapy for mRCC
Combination Regimens for Metastatic Melanoma
Sigrid Eckardt
Published Online: May 25,2016
A number of new combination approaches have gained approval in the past year for the treatment of patients with
BRAF
-mutant metastatic melanoma, expanding the number of effective treatment options that can improve quality and length of life for many patients.
Although single-agent therapy with targeted inhibitors of the BRAF kinase yields initial high response rates and a proven survival benefit, approximately half of all patients relapse after 6 to 7 months due to acquired resistance. The underlying escape mechanisms are complex and dynamic and involve reactivation of the mitogen-activated protein kinase (MAPK) pathway through genetic changes affecting BRAF, RAS, and MEK kinase activity, epigenetic changes, and immune evasion.
1,2
Concomitant inhibition of both BRAF and MEK kinases with targeted inhibitors has become, "The recommend approach for molecularly targeted therapy," according to Keith T. Flaherty, MD, with Massachusetts General Hospital Cancer Center, in Boston, Massachusetts.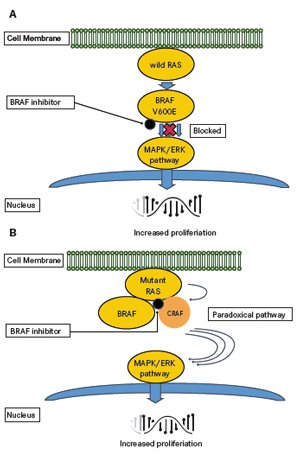 A. When BRAF kinase is constitutively activated due to a mutation (eg, V600E), treatment with BRAF inhibitors results in blockade of downstream MAPK pathway. B. In cells with wild-type BRAF, treatment with BRAF inhibitors results in transactivation of CRAF and promotion of RAF dimerization, causing paradoxical activation of downstream MAPK pathway in the presence of upstream oncogenic changes, such as RAS mutations.
The rationale for combining BRAF and MEK inhibition is to delay resistance associated with the reactivation of MEK–ERK signalling after single-agent BRAF inhibition. Upfront inhibition of both BRAF and MEK kinases can delay emergence of treatment resistance and decrease the incidence of cutaneous hyperproliferative lesions associated with the paradoxical activation of the MAPK pathway following BRAF inhibitor monotherapy.
3
"There are two bases for adding a MEK inhibitor to a BRAF inhibitor," said Flaherty. "One related to overcoming resistance and the other to countering a mechanism of toxicity."
Combined BRAF-MEK Inhibition: Dabrafenib/ Trametinib
Based on data from two phase III studies demonstrating overall survival (OS) prolongation, the dabrafenib/trametinib combination regimen received full FDA approval for the treatment of patients with unresectable or metastatic
BRAF
-mutated melanoma in November 2015.
The most recent analysis from the COMBI-v study presented at the 2015 European Cancer Congress (ECC) reported a 7.6-month prolongation of OS with dabrafenib and trametinib compared with single-agent vemurafenib (25.6 vs 18.0 months; HR, 0.66; 95% CI, 0.53-0.81;
P
<.001).
4
The estimated 2-year OS rate was 51% with dabrafenib and trametinib compared with 38% with vemurafenib monotherapy.
COMBI-v was a two-arm, open-label phase III study comparing dabrafenib/trametinib (150 mg twice daily/2 mg once daily) or vemurafenib (960 mg twice daily) in patients with
BRAF
V600E/K mutation-positive unresectable or metastatic melanoma (n = 704). The study was stopped early in July 2014 following the demonstration of benefit at an interim analysis (
P
<.0214).
5,6
COMBI-v was the second study to demonstrate superiority for the BRAF/MEK inhibitor combination therapy over monotherapy in advanced melanoma. Final OS data from the COMBI-d trial, which had been initiated concomitantly and randomized 423 patients with
BRAF
V600E/K-mutant melanoma to receive dabrafenib with trametinib (n = 211) or placebo (n = 212), reported a median OS of 25.1 months with the combination compared with 18.7 months with dabrafenib alone (HR, 0.71; 95% CI, 0.55-0.92;
P
= .011). The 2-year OS rate with the combination was 51% versus 42% with single-agent dabrafenib.
5,6
According to Caroline Robert, MD, PhD, lead author of the COMBI-v study, "Dabrafenib plus trametinib has demonstrated superiority over BRAF inhibitor monotherapy now in two phase III trials, supporting its use as a standard-of-care therapy in patients with
BRAF
V600–mutant melanoma."
Updated analyses from both trials also demonstrate increasing OS advantages of combination therapy over time. In the COMBI-v study, the absolute OS difference increased from 9% at 1 year, to 10% at 18 months, and to 13% at 2 years,4 and in the COMBI-d study from 6% at 1 year to 9% at 2 years.
6
In both studies, the addition of MEK inhibition significantly increased the likelihood of having an objective response (ORR; COMBI-d 69% vs 53% for BRAF inhibitor monotherapy,
P
= .0014; COMBI-v, 66% vs 53%;
P
= .0008), and more patients achieved complete responses (CR; COMBI-d, 16% vs 13%; COMBI-v, 17% vs 10%). Combination therapies also resulted in longer median duration of response (DoR; COMBI-d, 12.9 vs 10.6 months; COMBI-v, 13.8 vs 8.5 months).
4,6
Clinical Articles
Combination Regimens for Metastatic Melanoma