ONCAlert | Upfront Therapy for mRCC
Immunotherapy Combinations Are Changing the Frontline Treatment of Patients With NSCLC
Jennifer Fink
Published Online: Aug 16,2018
Julian R. Molina, MD, PhD
Just 3 years ago, nivolumab (Opdivo) became the first checkpoint inhibitor approved for the treatment of non–small cell lung cancer (NSCLC).
1
Less than half a decade later, 4 checkpoint inhibitors—2 anti–PD-1 antibodies, nivolumab and pembrolizumab (Keytruda), and 2 anti– PD-L1 therapies, atezolizumab (Tecentriq) and durvalumab (Imfinzi)—have been approved by the FDA to treat NSCLC. These agents are revolutionizing the treatment of patients with both squamous and nonsquamous NSCLC, and are quickly assuming a predominant role, especially in the frontline setting, due to recent exciting results from large trials.
1
"It's been incredible how quickly this has happened," Lauren Byers, MD, associate professor of thoracic and head and neck medical oncology at The University of Texas MD Anderson Cancer Center, said in an interview with Targeted Therapies in Oncology. "I can't think of many times in our field where there have been multiple high-impact papers coming out all around the same time, at 1 major meeting after the next. This will shift the standard treatment for the majority of our patients."
Recent advances in checkpoint inhibition have been driven by the desire to improve outcomes for patients and families. Early immunotherapy trials demonstrated tremendous benefit, but only for some patients. The phase III KEYNOTE-024 trial of pembrolizumab versus standard chemotherapy, showed that pembrolizumab alone was more effective (and better tolerated) than chemotherapy, but only in patients who demonstrated at least 50% PD-L1 expression.
2
Unfortunately, only about 30% of patients with NSCLC have PD-L1 levels greater than 50%, said Julian R. Molina, MD, PhD, a professor of oncology at Mayo Clinic. "The question became, well, how are we going to treat the ones that have less than 50% PD-L1 expression?" Molina said.
Data from a few recently published and presented studies may answer this question. According to Molina, "What you see from the [data of] clinical trials presented at the 2018 ASCO Annual Meeting is that the combination of chemotherapy plus immunotherapy seems to be useful and results in good outcomes. Based on the evidence that is out there right now, chemotherapy alone is not the best treatment for a patient with newly diagnosed lung cancer. You have to give chemotherapy in combination with immunotherapy, or immunotherapy alone, depending on the PD-L1 levels, or an inhibitor if they have a driver mutation."
Nonsquamous NSCLC
According to the recent
Society for Immunotherapy of Cancer
's (SITC) consensus statements on immunotherapy for the treatment of NSCLC, pembrolizumab monotherapy should be used as first-line therapy in patients with PD-L1–positive nonsquamous metastatic NSCLC.
1
First-line treatment with pembrolizumab plus pemetrexed (Alimta) and carboplatin may also be appropriate for these patients on a case-by-case basis. Patients with a PD-L1 tumor proportion score (TPS) less than 50% and no actionable mutations should receive first-line pembrolizumab with pemetrexed and carboplatin.
The promising results from several trials presented at major meetings in the past few months have received a great deal of attention for their potential impact on treatment for patients with nonsquamous NSCLC (TABLE 1).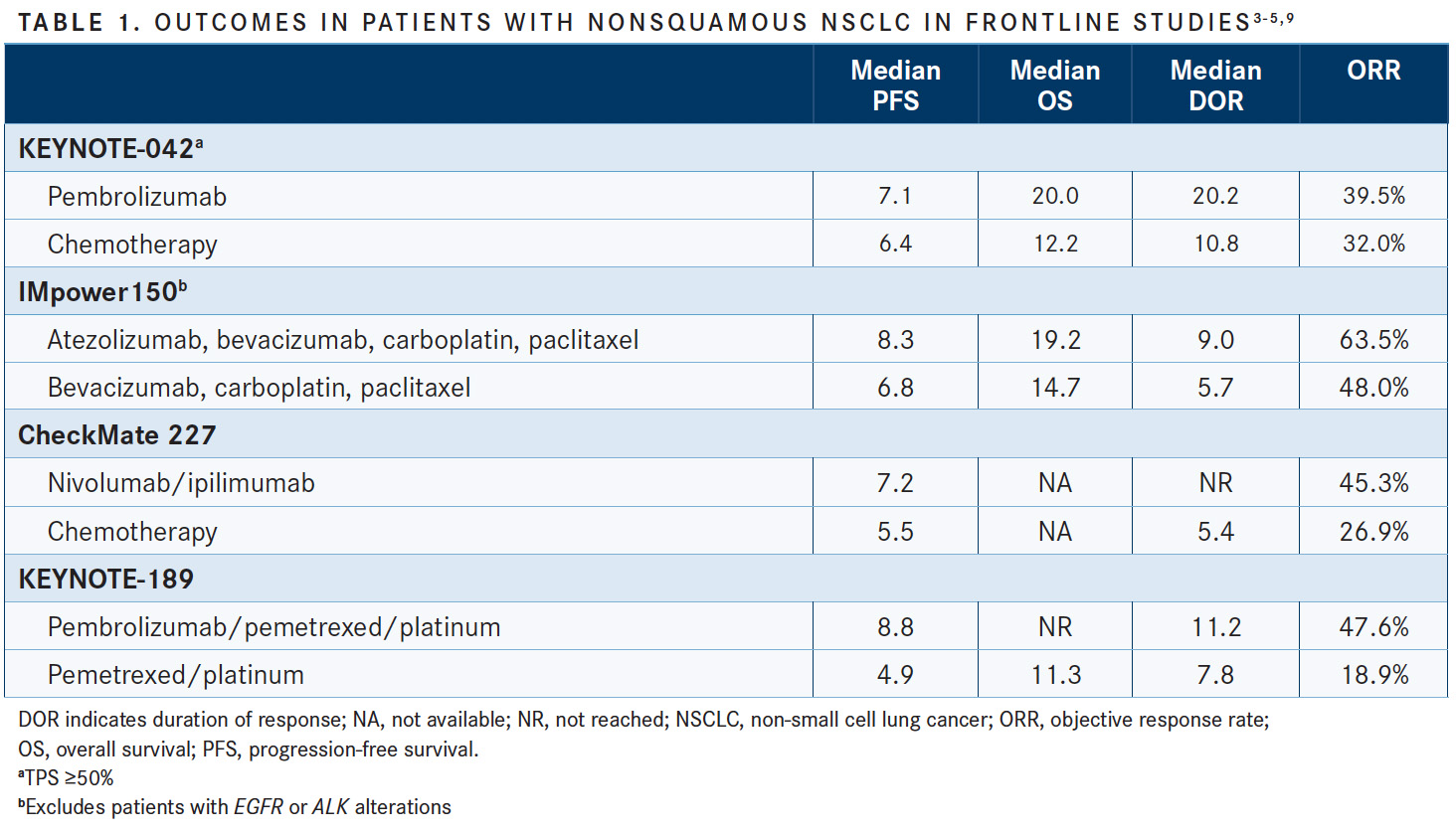 KEYNOTE-042 compared pembrolizumab to platinum-based chemotherapy as a first-line therapy for patients with advanced or metastatic NSCLC and a PD-L1 TPS of ≥1%. Patients received up to 35 cycles of pembrolizumab 200 mg every 3 weeks or the investigator's choice of up to 6 cycles of paclitaxel/carboplatin or pemetrexed/carboplatin with optional pemetrexed maintenance.
3
Those who received pembrolizumab alone lived a median of 4 to 8 months longer than those who received chemotherapy.
In patients with TPS ≥1%, the median overall survival (OS) was 16.7 months (95% CI, 13.9-19.7) with pembrolizumab compared with 12.1 months (95% CI, 11.3-13.3) with chemotherapy (HR, 0.81; 95% CI, 0.71-0.93; P = .0018). The OS results were even more pronounced in the higher TPS groups: in patients with TPS ≥20%, the median OS was 17.7 months (95% CI, 13.3-22.1) versus 13.0 months (95% CI, 11.6-15.3) (HR, 0.77; 95% CI, 0.64-0-.92; P = .0020), and 20.0 months (95% CI, 15.4-24.9) versus 12.2 months (95% CI, 10.4-14.2) in those with TPS ≥50%, respectively (HR, 0.69; 95% CI, 0.56-0.85; P = .0003).
Severe adverse events (AEs) were less common in the pembrolizumab group compared with chemotherapy (17.8% vs 41.0%, respectively), but there were more severe immune-mediated AEs and infusion reactions with pembrolizumab (8.0% vs 1.5%).
3
Clinical Articles
Immunotherapy Combinations Are Changing the Frontline Treatment of Patients With NSCLC