ONCAlert | Upfront Therapy for mRCC
Lazertinib Shows Promising Antitumor Activity in Patients With EGFR+ NSCLC
Nichole Tucker
Published Online:6:00 PM, Fri December 13, 2019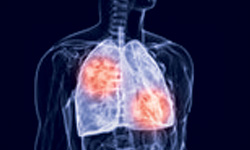 With the inevitability of resistance to first- and second-generation EGFR tyrosine kinase inhibitors (TKIs) in patients with
EGFR
-mutant non–small cell lung cancer (NSCLC), novel options like lazertinib (YH25448), an irreversible, third-generation, mutant-selective, EGFR TKI are being explored. Lazertinib has shown promise for the treatment of this patient population, according to a phase I/II dose-escalation study (NCT03046992) published in
The
Lancet Oncology
.
1
As assessed by independent central review (ICR), 69 (54%, 95% CI; 46–63) of the 127 in the study patients had an objective response to lazertinib. Of those patients, 52% had confirmed partial responses (PRs) and 2% confirmed complete responses (CRs). Additionally, there were 41 patients with stable disease, and 110 had disease control (87%, 95% CI; 81–93).
The data according to investigator assessment showed 76 patients with an objective response (60%, 95% CI; 51–68) and 114 with disease control (90%, 84–95).
The overall median duration of response (DoR) was 15.2 months (95% CI; 8.6–15.2), and the progression-free survival (PFS) was 9.5 months (6.9–16.4), by ICR.
In a subgroup of 108 patients harboring a
TM90M
mutation, 62 patients achieved an objective response. In another subgroup of patients whose tumors were negative for TM90M, 7 out of 19 patients achieved objective responses, according to ICR. The investigator assessment showed 69 objective responses in patients with
TM90M
-positive tumors (64%, 95% CI; 55–73), and the number of objective responses in patients with TM90M-negative tumors was consistent with the ICR assessment.
Eighteen out of 127 patients had measurable brain metastases, including 15 patients with
T790M
-positive and 3
T790M
-negative tumors. Objective cranial responses were observed in 8 of those patients with measurable brain metastases (44%, 95% CI 22–69).
Patients with
TM90M
-positive tumors also had longer PFS than those with
TM90M
-negative tumors.
Adverse events (AEs) of any grade occurred in 119 patients in the study. The most common AEs were grade 1/2 rash or acne (30%) and pruritus (27%). AEs varied according to the dose level of lazertinib. Among participants who received 20 mg of the drug, 33% experienced grade 1/2 rash or acne (n = 1), and the same percentage of patients had constipation, decreased appetite, nausea, paraesthesia, headache, vomiting, and dyspnea. Of 27 patients given 40 mg of lazertinib, 26% had rash or acne (n = 7), 19% had pruritus (n = 5), and 19% experienced constipation most commonly.