ONCAlert | Upfront Therapy for mRCC
Early AE Management With Corticosteroids Has Potential to Reduce Rates and Severity of Toxicity With Axi-Cel
Audrey Sternberg
Published Online: 1:30 PM, Sat February 22, 2020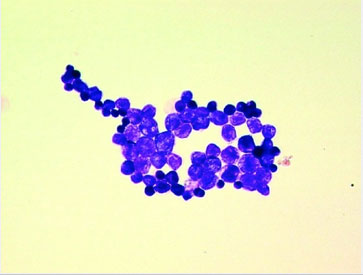 Evaluation of an expansion cohort of the pivotal phase I/II ZUMA-1 trial in patients with refractory large B-cell lymphoma (LBCL) revealed that early steroid intervention may have a positive impact on the toxicity profile of chimeric antigen receptor (CAR) T-cell therapy with axicabtagene ciloleucel (axi-cel; Yescarta), according to findings presented during a poster session at the 2020 Transplantation & Cellular Therapy Meetings in Orlando, Florida.
1
With a more rigorous adverse event (AE) management protocol that involved earlier steroid and tocilizumab administration in patients with symptoms of cytokine release syndrome (CRS) and neurologic toxicity, lower rates of severe events were seen in the expansion cohort 4 of the trial (n = 41) versus combined cohorts 1 and 2 (n = 101).
All-grade CRS was observed in 93% of patients each in cohorts 4 and 1/2. However, grade ≥3 events were lower in cohort 4 at 2% versus 13% in cohorts 1/2. Corresponding rates of all-grade neurologic toxicity were 61% and 64%, with grade ≥3 rates of 17% and 28%, respectively.
"When we started the pivotal portions of ZUMA-1, there wasn't a lot of information about how to best manage CRS and neurologic toxicities," John Rossi, MS, director of Translational Sciences at Kite Pharma, Inc, the manufacturer of the agent, said during the session. "We have learned that tocilizumab, or an anti–IL-6 agent, can manage CRS. But we still have a problem with afebrile neurologic toxicity which is outside the fever window where the mechanism of toxicity is [most likely] uncoupled with IL-6. We know that tocilizumab does not help these patients."
The AE management strategy for patients treated in cohort 4 involved administration of tocilizumab plus corticosteroids for grade 1 CRS and corticosteroids alone for grade 1 neurologic toxicity. Grade ≥2 events received tocilizumab plus corticosteroids for both CRS and neurologic events. For grade 3/4 neurologic events and grade 4 CRS, high-dose corticosteroids were used.
Conversely, patients in cohorts 1/2 did not received any prophylactic management for events that were grade 1. At grade 2, CRS was managed with tocilizumab plus corticosteroids and neurologic toxicities were treated with tocilizumab alone. Grade ≥3 events in this group were treated with both tocilizumab and corticosteroids.
"The thought with cohort 4 was that if we gave steroids and tocilizumab starting at grade 1, could this prevent patients from progressing to grade 2 [toxicity] and lower the rates of grade 3 neurotoxicity," Rossi said.
Cumulative dose and overall frequency of steroid use was lower in cohort 4. Twenty-three percent of patients received 1 dose of steroids versus 12% in cohorts 1/2, 23% versus 4% had 2 doses, 10% versus 0% had 3 doses, and 43% versus 85% had ≥5 doses. The median cumulative dose of steroids was 939 mg in cohort 4 and 5451 mg in cohorts 1/2. A lower percentage of patients received tocilizumab in cohort 1/2 (43%) than in cohort 4 (76%)
Response rates in these groups were comparable at 82% in cohorts 1/2 and 73% in cohort 4, with complete response rates of 54% and 51%, respectively. The median duration of response (DOR) was 8.1 months in cohorts 1/2 and 8.9 months in cohort 4, with corresponding 6-month DOR rates of 52% and 79%.
Between cohorts 1/2 and 4, baseline characteristics such as disease stage IV (57% vs 46%) and prior stem cell transplant (25% vs 34%) were well balanced. However, median tumor burden by sum of the products of diameters (SPD) in cohort 4 was lower at 2100 mm
3
(range, 204-24,758) versus 3723 mm
3
(range, 171-23,297) in cohorts 1/2. Similarly, median levels of lactate dehydrogenase (262 U/L vs 356 U/L) and ferritin (393 ng/mL vs 786 ng/mL) were lower for cohort 4.
"We had lower tumor burden at the median in cohort 4," Rossi said. "The higher the tumor burden by SPD, the worse the patients tend to do. They have a higher relapse rate and are more likely to develop a grade ≥3 toxicity."